Want to learn or brush up your Chinese?
...but find it hard and frustrating and not sure how to best go about it?
Well we believe there's no need to overcomplicate matters!
Just think about how you first learned English or whatever your first language was. 🤔
Chances are most people usually learn a language by going to school, where we are taught literacy - how to read and write*.*
And for good reason, because teaching literacy is still one of the most effective ways of learning a language.
And of course on the other side of the equation it requires oracy - how to speak and listen. However this is the one big obstacle that many people face when trying to learn a new language. It is hard to find enough people to practice speaking with! So your learning stalls and you get discouraged. 😢
This is the beauty of starting with literacy. You don't need a lot of people in order to be able to practice literacy. All you need is some reading material!
And that is what this course is all about. 📚
Yeah sure...but it is too difficult to read Chinese...
Yeah that's true. Chinese is one of the hardest new languages to learn and it is very tough for beginners to dive right in and start reading Chinese articles or news...
...unless you had someone that can guide you and explain to you what the text means. Almost as though you had a personal tutor sitting next to you and explaining everything to you.
That is what we are here for! 👩‍🏫
We will aim to guide and teach you so it will seem to you as though you have a "virtual private tutor" sitting next to you...at a fraction of the cost of an actual private tutor - for less than $1 per lesson!. 💲
Wondering what the reading exercises are like?
Here is a video that is a good example of a typical reading exercise.
Note that this is just the video component but each exercise is usually a mix of text, audio, video and a quiz at the end. 👇
Plus we appreciate that maybe that is not enough for you to judge if this course is suitable for you, so on top of having a 30-day money-back guarantee (see below) we also are giving away our Essential Chinese Reading Practice Course (Vol #1) for free. 
This will let you actually see what the course is like!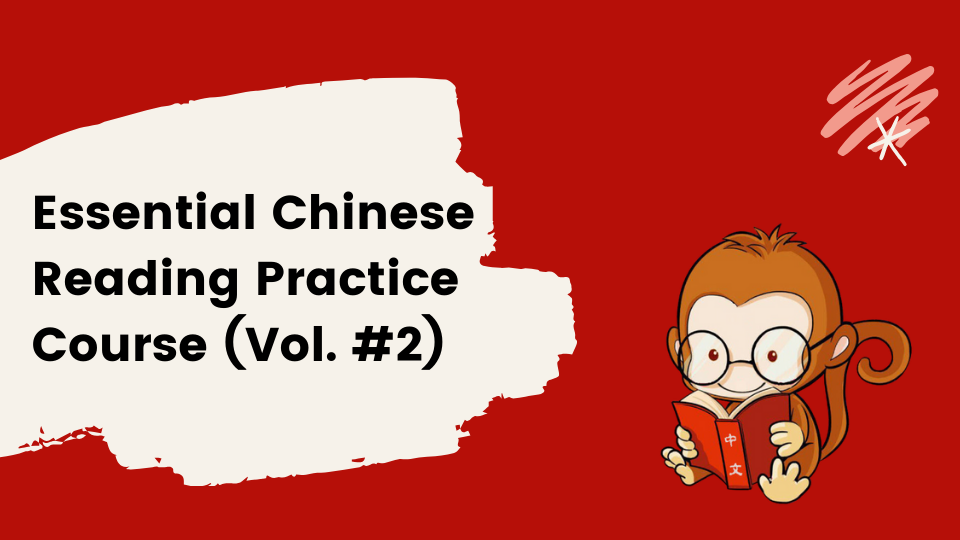 Course Features
⏰LIFETIME ACCESS
🤠MIX OF BEGINNER TO DIFFICULT READING EXERCISES
📖20 CHINESE READING EXERCISES
🔉20 CHINESE AUDIO RECORDINGS
📹20 ARTICLE EXPLANATION VIDEOS
🉐CHINESE DICTIONARY POP-UP ANNOTATION
🇬🇧TOGGLE SHOW/HIDE ENGLISH TRANSLATION
🈴SUMMARY OF KEY VOCABULARY FOR EACH EXERCISE
💯QUIZ AT THE END OF EACH EXERCISE TO TEST YOUR COMPREHENSION
⤵️DOWNLOADABLE
📲ACCESS ON MOBILE/TV
Summary of what you can expect from this course
Who?
This course is for anyone who knows some very basic Chinese and/or pinyin and would like to get the chance to have practical application along their learning journey.
It is best used as a complimentary course to another Chinese theory or fundamentals course.
In that sense it is like studying math or any other subject that has theory work and practical application work. This particular course focuses more on the latter.
What?
We've put together a series of essential Chinese reading exercises which many of our students have found useful in taking that next step in their Chinese learning journey.
Why?
One of the biggest pain points aspiring new Chinese language students face is the lack of opportunities for practice or application.
This is especially true for those who live in non-Chinese speaking countries.
So the way most Chinese language students try to supplement this with by taking private Chinese lessons (expensive) or attending Chinese classes (cheaper but still quite expensive).
This is a viable practical alternative where you can practice your Chinese skills on your own terms at your own time.
I am intrigued. But can I "try before I buy?"
We are giving away our Essential Chinese Reading Practice Course (Vol #1) for free. You can try that out to see if you like the format of our reading exercises!
Alternatively we do have a 30-day money-back guarantee so feel free to try it out and see if you like it.
30-Day Money-Back Guarantee
Try it risk-free!
We're so confident that you will find our Essential Chinese Reading Practice Course very helpful that if you are not satisfied in any way, we will refund your money. 💰
No questions asked (well other than any feedback you might choose to give as to how we could improve the course).
So keep in mind that you can ask for a refund any time during the first 30 days if you decide the course isn't for you. Hence you shouldn't feel any pressure uncertainty, the risk is on us!
Frequently Asked Questions
When does the course start and finish?
Well it depends on how eager you are to learn Chinese! 😀
As this is a completely self-paced online course - you decide when you start and when you finish.
How long do I have access to the course?
How does lifetime access sound? After enrolling, you have unlimited access to this course for as long as you like - across any and all devices you own.
What is the next step after this course?
The good news is we are always striving to create more useful courses so keep an eye on our course catalog! 📃
What if I am unhappy with the course?
We would never want you to be unhappy! If you are unsatisfied with your purchase, contact us in the first 30 days and we will give you a full refund.